Emballage et Boîtes Sur-Mesure
À partir de 50 centimes par boîte
Boîtes de transport et plus; la manière parfaite d'attirer et d'engager de nouveaux clients tout en étant fonctionnel.
Des Emballages & Boîtes beaux et originaux
Que ce soit un simple carton pour protéger votre papeterie, une enveloppe qui passe par la boîte aux lettres ou des boîtes de transport qui supportent le fret international, nous faisons en sorte que vos articles voyagent avec style en toute circonstance.
Paper Over Board Boxes
A premium box option, great for press packs and presentations. Foil or deboss your design for a premium finish.
Corrugated Boxes
A sturdy, mailer-ready box that looks great in full colour. Perfect for business gifts, subscriptions and e-commerce.
Notebook Boxes
A popular, low cost packaging option for gifting notebooks. Add your logo to trays, wrap arounds or shallow boxes.
Mailer Wraps
Perfect for sending a few small items that fit through the letterbox, these sturdy mailer wraps can be printed in full colour.
Card Envelopes
Our card envelopes are made from thick board, perfect for sending small items through the post.
Shipping Boxes
Add your finishing touches to a gift or product with a fully printed shipping box and branded tape.
Bottle Boxes
Our versatile bottle boxes secure any shaped bottle, and can be printed in full colour to make a great impression on arrival.
Food & Drink Packaging
From luxury foiled shoulder boxes for handmade chocolates, to innovative biodegradable pouches for drinks.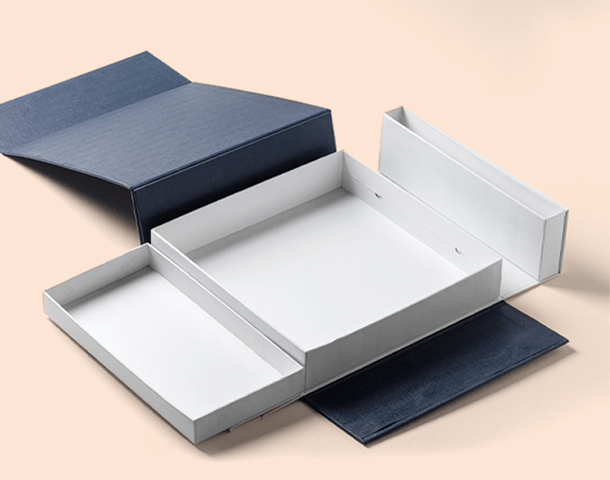 Fold Out Boxes
Impress VIPs with sophisticated multi-compartment boxes, designed to fit your specific needs.
Double Layered Boxes
If you're looking for something unusual for a bespoke gift or project, we offer a variety of box shapes and structures.
Luxury Product Packaging
Create packaging that does your luxury products and brand justice, with thousands of premium materials and box designs on offer.
Bespoke Inserts
We can add foam or card die cut inserts to your box that securely house your gifts or products, while looking visually stunning.
Habillage & Design
Si vous avez besoin d'aide avec vos visuels ou la création graphique, ou avez un style particulier en tête, n'hésitez pas à nous contacter. Nous avons une équipe dédiée de designers et de spécialistes qui peuvent vous guider dans le processus de création et de commande.
Que ce soit des boîtes de transport, des coffrets à bouteilles ou des barquettes, nous pouvons vous aider.
Demande de renseignements